East West Exchange, Inc was founded by Ji-li in 1992. Its mission is to promote and facilitate cultural and business exchange between China and the West. East West Exchange, Inc. is honored to be the overseas agent of Shanghai TV Station, Shanghai Eastern Radio Station, Shanghai Welfare Institute and China Travel Service.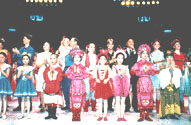 Some of its highlights include: coordinating exchange programs between Shanghai Children's Theater and American Children Theaters; bringing Chinese business groups to conventions and trade shows in the United States; coordinating the 1994 Shanghai International Children's Culture & Art Festival; arranging Shanghai Eastern Radio executives' visit to establish connections with American Public Radio stations.
In recent years, China is quickly changing and has become more open to the world. East West Exchange therefore has organized more exchange programs, such as taking western doctors and chiropractors to study alternative medicine in China, and organizing cultural tours for the teachers. The participants praise the program "changed their perspective and enriched their view of the world."

East West Exchange
4 Commodore Dr. #442
Emeryville, CA 94608
Phone: (510)601-5779
Fax: (510)601-5729
E-mail: info@JiLiJiang.com